Last Monday the great man told the Paris newspaper
L'Express
his views on immigration
thus
"Oh, I think Canada is full too! Although it's the second largest country in the world, our useful area has been reduced," Suzuki said. "Our immigration policy is disgusting: We plunder southern countries by depriving them of future leaders, and we want to increase our population to support economic growth. It's crazy!"
The voice of sanity on this file is Jason Kenney. Yes, that Jason Kenney. The Honourable Minister Tweeted that
Disappointed w/ David Suzuki's stridently anti-immigration views.He calls immigration "crazy" because Canada's "full"
and then Tweeted
Suzuki's views are toxic & irresponsible: "Canada is full. Our immigration policy is sickening. Its crazy. There's no more room in Canada.
and then Tweeted one more time
There has been no media coverage of D Suzuki's extreme anti-immigration views.What would happen if a prominent conservative said same thing?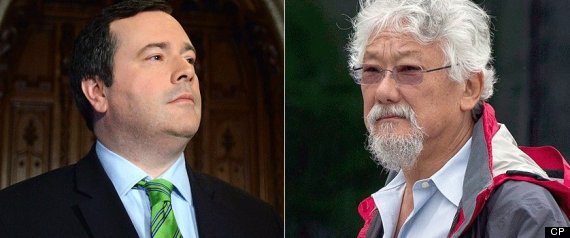 OMG, tell me about it, I never thought I would agree with him but I do on this file.
WFDS