Again.
The National Post quotes the man as telling his cohort Ron McLean and the world these pearls of wisdom during the first intermission of CBC's Hockey Night In Canada:

"I don't believe — and I really believe this — I don't believe women should be allowed in the male dressing room," Cherry said. "I — now, wait a minute — I remember the first time it happened to me. Guys are walking around naked and I hear this woman's voice and I turn around and there's a woman, and she's asking me about the power play, and I say let's go outside, and she said 'I'm not embarrassed,' and I said, 'I'm embarrassed.'"
I am not surprised. But the chattering classes are up in arms and calling for Don Cherry's head.
First off, if you favour diversity suck it up and turn the channel when Mr. Cherry comes on the Sony. Secondly, how dumb are you? You are so easy to manipulate. The CBC's equivalent of Christmas shopping starts this week with the debut of the NHL Stanley Cup playoffs. It is a cash cow, thee cash cow for the Mother Corp and you guys got it on the front page of every paper in Canada plus the hockey towns on the U. S. border.
If you don't think that the Don and Ron Show is scripted, loosely at least, you gotta give your head a beeg shake.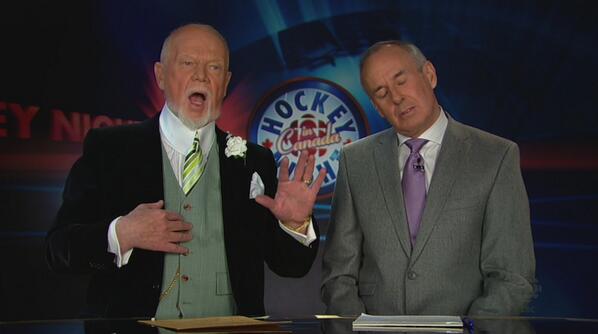 WFDS